El Calafate, gate to the incredible Perito Moreno Glacier and to other glaciers in Los Glaciares National Park, is a must see in your trip to Patagonia. It`s defintely a stop in your route visiting Argentina and of course, weather is important when you choose best season to visit this area. Well, we prepared a complete information with average temperatures, humedity, rainfall days, daylight depending differnt seasons and more. Take a look to the graphics below:
TEMPERATURES IN CALAFATE
Well, remember you will be in front of collosus masses of ice, so a warm coat is always necessary. But, take a look to different temperatures depending the month of your visit. You can see high and low temperatures in different colors:
As you can see, better temperatures are during October, November, December, January, February and March. It`s the high season of Patagonia, and best months to enjoy the glaciers. But, what about humedity?
RAINFALL IN EL CALAFATE
El Calafate is not a rainy place, it`s located in a middle of the Patagonian Steppe, but of course there is some months with more rainy days. and Autumn and Winter are the seasons with more percentaje of rainy days. Take a look to the rainfall information in El Calafate, in milimeters:
Ok, but what`s 12.5 mm of rain, for example in January, or what`s means 30.6 mm in May? Well, the following graphic will be clear to see how many days you can expect during the month you`ve chosen to enjoy this wonderful area of glaciers and lakes in Patagonia: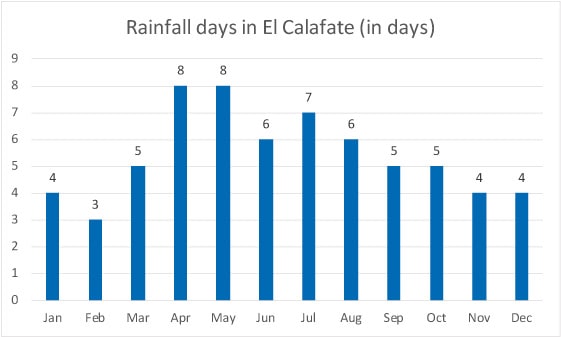 Ok, it means 4 days in January, November and December, 3 days in February… again summer season is the best time to organize a trip in Patagonia. Anyway El Calafate is not a rainy place, as maximum 8 days are expected during April and May. Finally, let me talk about daylight. It`s an important point.
DAYLIGHT IN EL CALAFATE
Well, if I decide to go in January, how many hours of daylight can I expect? and how many if I go during winter? It`s an important point because daylight is important to enjoy lanscapes like Los Glaciares National Park can offer. Well, here, our first graphic where you ca nsee sunshine and daylights during the year: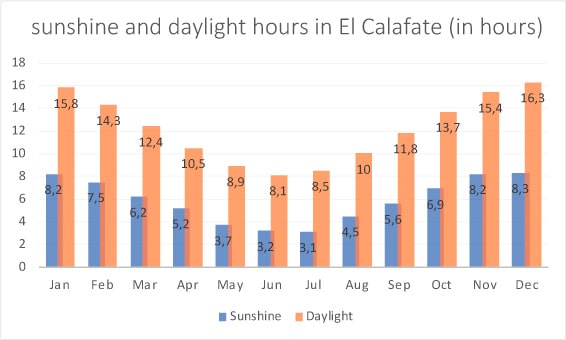 Again, summer seasons, from October to March is the best season with more daylight, with 16.3 hours during December for example. It`s excellent to enjoy the glaciers and take hundred, thousend of photos… and of course, during winter, you only will enjoy 8-9 hours of daylight.  So, if you visit El Calafate in January, sunrise will be 5.50 am aproximately, and sunset at 22.00 hs. It`s more than 15 hours! in the other hand, during winter, expect a sunrise at 9:50 am, and sunset at 17:50 hs. It`s around 8 hours of daylight.
I hope this information helps you to arrange best season to visit El Calafate. No doubt, best season is from October to March, but you have to know that November, December, January and February are very interesting for international touristm so, the number of visitors you can expect is higher than October, or March / April.
Source: RipioTurismo