The Perito Moreno Glacier is located in the city of El Calafate, Santa Cruz province. This glacier is the great attraction of Los Glaciares National Park, the site where it is located. "El Calafate, land of glaciers", as this destination in Argentine Patagonia is known, receives thousands of visitors from all over the world who visit it yearly.
Although the town is home to numerous glaciers, the Perito Moreno is one of the most striking for its fascinating majesty. This glacier has several characteristics that make it special and enigmatic; one is its size. Learn its dimensions here.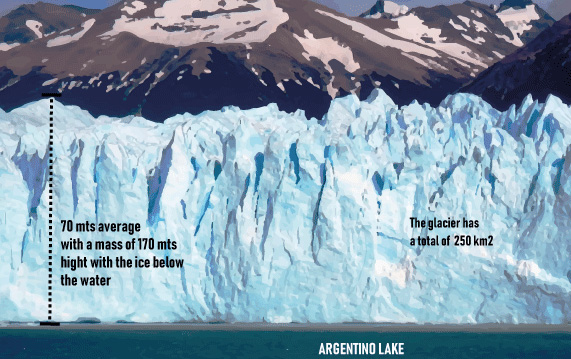 How Big Is the Perito Moreno Glacier?
The Perito Moreno glacier has a front of 5 kilometers (3 mi), an area of 257 square kilometers (97 sq mi), and a depth of 170 meters (558 ft).
The Perito Moreno glacier is undoubtedly the star of the Glaciares National Park. This park is located approximately 80 kilometers from the city of El Calafate and is home to numerous natural attractions.
Among the curiosities that most attract visitors are the dimensions of the giant ice blocks. We already tell you how big the Perito Moreno glacier is, but how tall is it?
How Tall Is the Perito Moreno Glacier?
The gigantic ice walls of the Perito Moreno glacier reaches a height of approximately 70 meters (240 ft) above the level of Lake Argentino.
These dimensions make it one of the largest in the park and the area, although this was not always the case. Formerly, the Upsala glacier was larger, but it has decreased in size over time.
The Perito Moreno glacier is one of the great attractions of Argentina, a must for those who wish to be protagonists of a unique spectacle such as the majesty of its imposing blocks of ice.